What's New in March 2021
It's almost spring and the weather is getting warmer, and that's not the only thing heating up—the Reaper Invasion is in its fifth week!
NINTENDO SWITCH: MECHANOID INVASION
The Mechanoid Invasion rages on over on Nintendo Switch! The Avatar of the Invasion—The Integrator— and its army are not letting up. Team up with other players to challenge new Adventures, Distortions, Raids, and the Avatar itself. There are exclusive rewards like the new Rey Companion and the Genesis Costume, amongst others, still up for grabs!
Thanks to your detailed reports and feedback, we continue to work with Nintendo on introducing patches to fix issues related to memory-related crashes and audio. Keep up to date by following our social channels (Discord, Facebook, Twitter).

PC AND CONSOLES: REAPER INVASION
The Reaper Invasion is still running until the end of the month so you still have time to explore the new Invasion Atlas and earn yourself two new Exoskeleton modules. There are also the Wings of the Reaper Vanquisher and a Legendary Weapon waiting for you.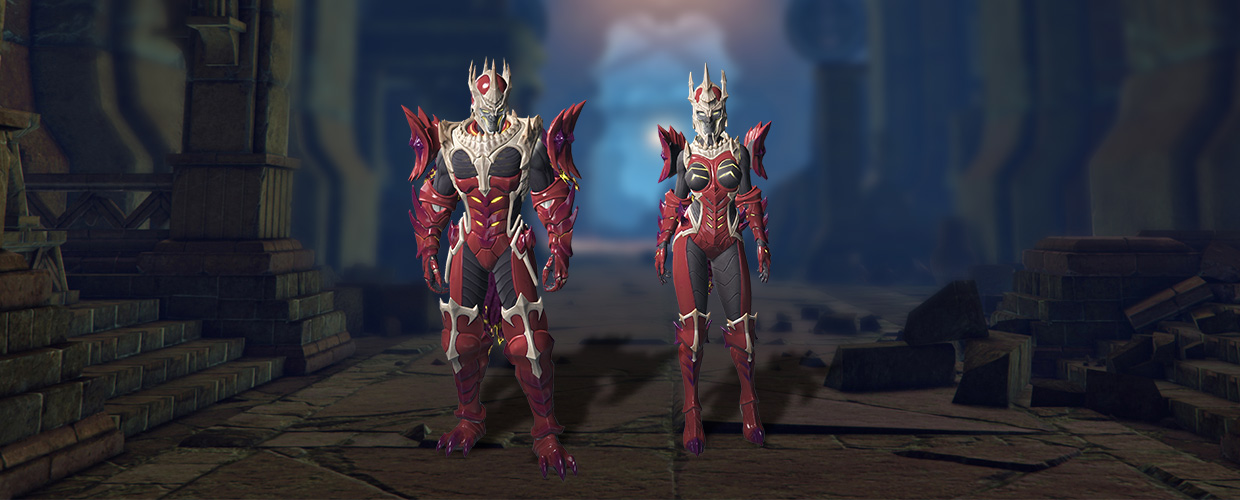 LOVE MYSTERIES
The Love Mysteries event is over but luckily the cosmetic items are still available in the in-game market if you missed out during the event itself! There's geisha-inspired makeup, costumes, masks, hairstyles, and more for you to grab before March 17.

ST. PATRICK'S DAY
A highlight in a lot of calendars every year is St. Patrick's Day and naturally we will hold an event for it, but you'll have to wait and see what's in store!
GUIDES
We've recently begun to produce basic guides for the newer players who are joining us in Skyforge, and this month we continue with guides for four more exciting classes as well as other aspects of the game! Be sure to check them out if you're new to Aelion or just want to brush up on your basics. We would also love to hear your feedback on guide topics, guides you'd like to see, and any improvements we could make going forward.

IMPORTANT: The dates and content featured in this article may be subject to change. Please stay tuned to official Skyforge channels for further news and announcements.